---
BIOGRAPHY
AWARDS
EXHIBITIONS
EXHIBITIONS 2
COLLECTIONS
COMMISSIONS
RESIDENCIES
LECTURE TOURS
GUEST SPEAKER
MONOGRAPHS
BOOKS
ARTICLES
CATALOGUES
REVIEWS
TELEVISION
DVD
MEMBERSHIPS
HONOURS
REPRESENTATION
Signed Books

Sandy Brown: The Sculptures

Lionel Philips copyright 2000
Ceramic Art and Perception (Australia) No. 30 Dec 1997

Sandy Brown is an artist who chooses to make her art in clay. She also chooses to make as part of her creative output items of functional ware which are traditionally the province of the craftsman potter. What distinguishes her work, both functional and otherwise, is first her willingness to give rein to her imagination so as to liberate form from the limitations of the commonplace and secondly an exuberance of decoration that is peculiarly hers.

A cognate quality and one that may be regarded as an unusual measure of aesthetic merit but which I believe to be valid, is its solidity. One often picks up a ceramic work of elegant shape and exquisite glaze only to be disappointed at its flimsiness. It is like picking up a butterfly. Pick up a piece by Sandy Brown and its weight immediately tenses the muscles making form palpable.

On first acquaintance Brown's work may seem to be unrestrained expressionism but when we contemplate it we become aware that it is subject to an intellectual discipline that is a framework for both the form and the visual satisfaction that the viewer receives from it. It is not by chance that each piece is apt for its purpose and works three dimensionally whether it be a soup bowl or a goddess figure. It is this discipline that gives the work its potency.

Colour as well as freedom of form lies at the heart of Brown's art. Colour applied with vigorous broad brushwork or dribbled or splashed with energy and passion always in harmony with and as an enhancement of the underlying form. Yet one can sometimes visualise the decoration as self-contained images and it may be that the larger wall paintings are a logical extension of this quality.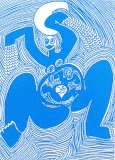 Because of the extrovert nature of Brown's painting it is easy to overlook the fact that the colours she adopts are never brash. At different periods in her progress she has used a varying but limited palette; latterly the blues, pinks and greens have attained the rich warmth and depth that we associate with a mature artist whose intuition is tempered by experience.

Brown's figurative, but by no means representational, sculptures have been relatively little seen and are distinct from the rest of her oeuvre. They are intensely personal and reflect the tribulations and joys of a psychological and philosophical journey. They require an essay beyond the confines of this notice. Here it is sufficient to say that they have a primordial and earthly power that seeps into the memory. It is remarkable that in recent sculptured figures pigment has been abandoned for natural unglazed clay striated with deep finger-drawn furrows with no loss of effect. The stripping away of excess embellishment, the use of the simplest means to indicate features and the body language of the figures suggest the exhilaration of a burden discarded.

The tall hollow columns, a new development, suggest the same sense of unfettered confidence as they stretch towards the sky.

I have attempted to draw attention to some salient aspects of Sandy Brown's art but I think that ultimately it is to be valued not for particulars but overall for its daring, for pushing at the extremes of what is possible within the chosen realm. She is prepared to risk failure in order, more often than not, to succeed triumphantly.