The Sandy Brown Museum and Gallery was opened in Appledore in June 2014. It has a continuous evolving exhibition of work in the beautiful gallery and you are welcome to visit!
I love visitors, and you can see what is going on in the studio and have a cuppa or a glass of wine!

Please email in advance of your visit.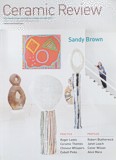 Ceramic Review issue 221 has an article about the Sandy Brown Museum.